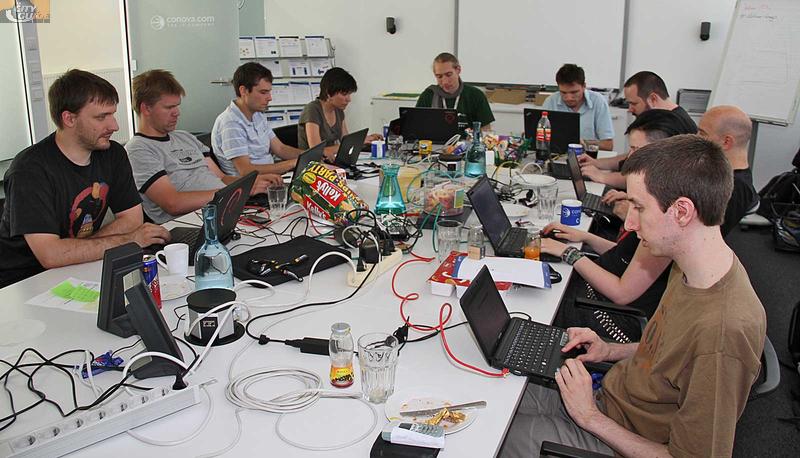 Participation and Results
From June 15-17th we held a Debian BugSquashingParty in Salzburg, hosted and sponsored by conova communications GmbH. It was a fun and busy weekend, with 15-17 people from 5 countries being around, mainly working on RC bugs in Testing/Unstable. Gerfried Fuchs (rhonda) also worked on triaging the impact of RC bugs on the version in Squeeze, while Peter Palfrader (weasel) took care of Tor related things and Debian sysadmin work, including starting on the new bugs and udd hosts. Phillip Hug (hug) worked on the debian.ch infrastructure. Together with Miroslav Suchý from Red Hat Bernd Zeimetz (bzed) worked on the packaging of the necessary libraries and daemons to add (basic) Spacewalk client support to Debian. As soon as the packages passed NEW and #677871 was applied (thanks to the APT guys for working on that already), managing Debian clients with Spacewalk should work out of the box. Of course we also had a little keysigning party :)
Statistics
about 68 bugs in unstable/testing were triaged/patched/fixed or at least pinged
54 bugs were tagged to show if they affect Squeeze, several other bugs were pinged to retrieve necessary information or to trigger an update in the next stable pointrelease.
5 packages were introduced into Debian (still in NEW, though) - the Spacewalk client related packages and libapache2-mod-auth-memcookie.
Accomodation
Thanks to Debian funds we were able to provide accomodation for four participants in the JUFA youth hostel in Salzburg. We had paid in advance for eight, but changing to rooms with a higher category for only 4 people would have been equally or more expensive.
Press/Media coverage
Additionally to being mentioned in the calendars on ProLinux and similar pages, we had some press coverage by the local newspaper and online magazines:
Fun facts
We consumed 2kg of Leberkas, a big plate of "Buchteln mit Vanillesosse", about 16000cm^2 of Pizza, about 80 litres of coke, juice, beer and wine and I guess we drank at least the same amount of water. We had coffee made of 1.5kg coffee beans and managed to empty the (formerly well filled) icemaker in the fridge. Also we had successful training sessions of a standard Debconf game (rules won't be explained here obviously). Maybe we even successfully spread the game to the employees of a commercial linux distribution ;)